Written By Jody Segrave-Daly, MS, RN, IBCLC
As a veteran neonatal nurse and lactation consultant, I am often asked by parents to explain how the antibodies found in breastmilk work to protect their babies. Published research on immunology is extremely technical and difficult to understand, and unfortunately, the information that is readily available (especially on social media) contains a lot of false and conflicting information. So I'm here to share evidence-based information about this very important topic in a way that is easier for most parents to understand.
Our immune system is very complex, but generally speaking, it is responsible for fighting off both germs that enter our bodies from our environment, and also for protecting us from diseases like cancer that occur within our bodies. I will be focusing on how the immune system fights off germs, which it does by producing antibodies.
What is an antibody and what does it do?
An antibody is a protein that is produced by the body's immune system when it detects the surfaces of foreign and potentially harmful substances, also known as pathogens. Examples of pathogens are bacteria, fungi, and viruses, which are all microorganisms. The antibody response is specific; it will seek out and neutralize the microorganism and stop the invasion. There are five classes of antibodies: IgM, IgG, IgA, IgD, and IgE.
The first way is through passive immunity (temporary)
The second way is through active or acquired immunity (lifelong)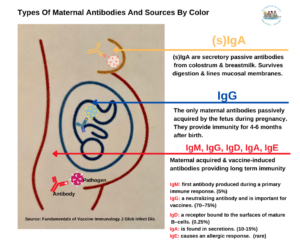 Continue reading